Quotes and Estimates
are Free of Charge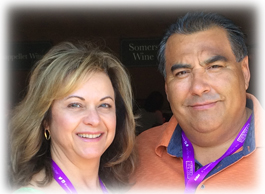 Sherri and Carlos Hernandez
have owned and operated small businesses in Monterey for over twenty years. They enjoy their family, pets and work.
C-a-Handyman believes in getting the job done well at a reasonable cost. You are welcome to contact us to discuss your repair, maintenance or construction needs. We are very interested in finding ways to make good solid work affordable for clients.
Carlos is an experienced highly qualified freelance handyman. Carlos began taking things apart and fixing them at a young age. Through decades of working for large companies in the Salinas Valley Area he continued working on various creative construction and mechanical projects. Employed as a supervisor of maintenance and maintenance mechanics for industrial machinery and company cars, trucks and buses. His work included having install, maintain and supervise industrial irrigation and security systems. He also managed crews, reports and public relations.
Contact C-A-Handyman to discuss your project.
Please feel free to call or e-mail. Consultation, estimates and job quotes are free of charge. You are welcome to call Carlos or Sherri to discuss the work you need done, job or project estimates and to ask questions about our services.
Usual hourly rates are $55.00 per hour.
Estimates for large jobs are negotiable.
Save $50.00 !

Ask for our Special Internet Discount:
$10.00 off per hour for up to 5 hours per customer.
Expertise and Certifications Include:
Landscaping and irrigation
Electrical, plumbing, appliance
More than 10 years of experience in management.
Forklift License.
Fairway Operations.
Bilingual: English and Spanish.
CPR Certified.
Sherri is the business manager of C A Handyman and Carlos is the skilled fixer and builder. Sherri is also the owner operator of Electrolysis by the Bay.